It's impossible to explain the atmosphere at 274 Upper Street, the original home of the group. Although described as the "only place in Britain where the rising damp and falling damp met in the middle" it was a place of great fun and happiness.
So what was the Group?
It was a self-help group without the angst and torment; it was a social group for those who wanted to meet others.
It was a place everyone enjoyed attending and could get something out. It could be a fun, light-hearted place for some; it could be the place that others sought the answers to their, sometimes, desperate questions; it was a place of fun and happiness.
Yvonne was able to answer most, if not all, questions on the subject of cross-dressing and was frequently consulted by members of the medical, legal and journalistic professions for help and advice. She also helped so many transvestites, transsexuals and their families come to terms with their cross-dressing that it would be impossible to name them all. She offered good advice for those who wished to "go full-time" pointing out the pitfalls and advising on the best way forward. Unfortunately, this was not always advice that transsexuals wanted to hear. Unlike some professionals and advisors, rather than give someone her blessing, she would honestly tell the person that they "haven't got a cat's chance of passing in public as a woman". This often brought the detestation of transsexual organisations. However, for those transsexuals who followed her advice, they sailed through the "living and working as a woman for a year" period and were successful after the operation.
Transvestism Can Be Fun!
Yet 274 was also a place of so much happiness and laughter.
There were so many fun evenings at the Group and so many memorable moments, it's hard to believe they've gone forever. That is one of the main reasons for this website: to remind those who attended what it was like and to tell those who didn't how it was.
She taught people that transvestism needn't be a problem but could be a pleasure and something to enjoy - and we did enjoy it, every Friday, Saturday and Sunday of every week in every year from 1972 until 274 Upper Street closed in 1986.
Here are some of the photographs taken at 274 over the years and some of the characters who visited, but to see more photographs visit 274 Galleries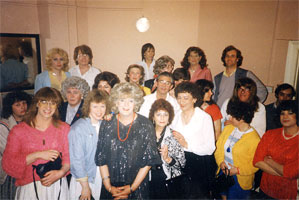 Last night at 274 Upper Street, 1 June 1986